Top-Rated Pressure Washing Company in Brentwood, CA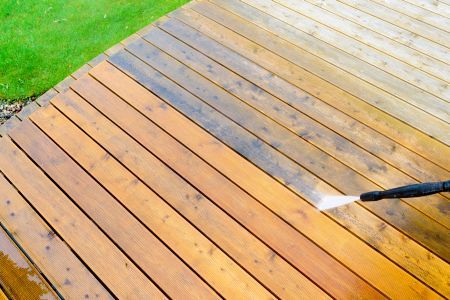 Your best bet for getting pressure washing done in Brentwood today is with our company. Make sure that your property has been properly maintained with the power of pressure washing! Our pressure washing professionals have years of experience helping home and business owners in Brentwood clean up their properties for commercial or personal use.
Our pressure washing technicians have been trained to the highest degree of quality to ensure they do not damage your Brentwood property.
Driveway washing and other large-scale projects are used to increase your viewing pleasure while living in your home.
And no other pressure washing company will work with you tirelessly to see the project through to the end.
Our Brentwood Driveway Washing Experts Are Eager To Work With You!
When you need your driveway clean, working with the Brentwood pressure washing professionals will give you an edge up over anyone else. Our team has the best pressure washing equipment in the business, backed up by over 30 years of pressure washing experience, completing the ideal team that will make sure that your property's the shiniest one on the block.
Driveway washing is a simple process in which a large section of your driveway is covered in a cleaning detergent that is left to soak into the stone for a short time. Once the detergent has done its work and loosened the grease and oil stains, a pressure washing technician will thoroughly clean the surface of your driveway with a powerful pressurized hose. This will knock loose and remove any lingering stains or issues you may have with your driveway.
Crocodile Window Cleaning & Pressure Washing Offer the Best Roof Washing And Softwashing In Brentwood!
If you work with any other pressure washing company in Brentwood for your roof cleaning operations, you simply won't get the best service available to you. Our pressure washing experts have over three decades of experience and the best equipment to ensure the job gets done quickly and affordably. No one can beat our rates because no one can beat the quality and the satisfaction offered to you when you work with Crocodile Window Cleaning & Pressure Washing.
If you are interested in our pressure washing services, then you can reach us at this phone number.
Reviews & Testimonials on Crocodile Window Cleaning & Pressure Washing in Brentwood, CA
There are currently no reviews or testimonials, check back soon!
Check Out Our Work
See Our Cleaning Process
Coming Soon!
Latest Articles
Pressure Washing, From Brick To Shingles

What follows is a list of materials commonly found in buildings and what pressure you need to wash them at in the potential complications during a pressure washing operation. Here at Crocodile Window […]

Three Ways You Can Damage Your Pressure Washer Accidentally

There are three main ways that you can damage your pressure washing machine accidentally. The first two are possible while the pressure washer is activated, and the third is only possible when the pr […]