Commercial Pressure Washing In Long Beach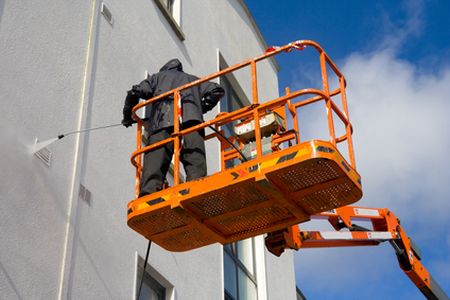 Our pressure washing services are exactly what a commercial property that wants to increase traffic needs! Crocodile Window Cleaning & Pressure Washing has the commercial pressure washing experience and equipment to help your Long Beach business stay on top!
Because we've been open for over two decades in Long Beach, you can be certain that you will get a good deal when you work with Crocodile Window Cleaning & Pressure Washing. Our rates are affordable, and our time spent in the area reflects well on our company.
Our Business Can Help Your Business!
Commercial pressure washing is just about the same as residential pressure washing. The essential difference between commercial and residential pressure washing is that in commercial pressure washing, you have a company or business that is probably dealing with a larger mess than any residential client.
This means if you are handling pressure washing for a restaurant or an old family diner, there's going to be a lot more grease and a lot more dirt. Parking lots attached to restaurants or any other business that tend to create some kind of by-product will inevitably become greasier and more stains in parking lots for, say, banks.
Window cleaning is essential for retail and storefronts to draw in customers from the street.
Roof washing, of course, needs to be taken care of at reasonable times to make sure that you are not scaring away customers by having men climb ladders with heavy machinery. Additionally, if your business is one that can be seen from a passing freeway or from other roofs of buildings, you will want to make sure that the roof of your building is appealing to passing customers.
Driveway washing is an essential pressure washing service that can spruce up the presentation that you perform for any passing automobiles. Just as there is nothing more satisfying than driving a car over fresh asphalt, a well-maintained driveway that has been freshly pressure washed will be appreciated by your customers!
Check Out Our Work
See Our Cleaning Process
Coming Soon!
Latest Articles
Pressure Washing, From Brick To Shingles

What follows is a list of materials commonly found in buildings and what pressure you need to wash them at in the potential complications during a pressure washing operation. Here at Crocodile Window […]

Three Ways You Can Damage Your Pressure Washer Accidentally

There are three main ways that you can damage your pressure washing machine accidentally. The first two are possible while the pressure washer is activated, and the third is only possible when the pr […]