Solar Panel Cleaning Professionals Serving Clients In Long Beach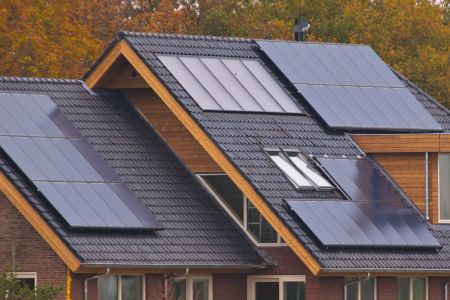 Solar panel cleaning works by using a steady stream of low-intensity pressure washing water and specific non-irritating detergents to clean the surface of delicate technology that sucks in sunlight and spits out energy. If you aren't working with the professionals on your solder cleaning job, then despite how eager you are to go green, you'll be left behind in the mud.
The best solar panel cleaning offered in Long Beach and the surrounding areas is done by Crocodile Window Cleaning & Pressure Washing.
When You Are In Need Of A Good Solar Panel Cleaner In Long Beach
Most solar panel cleaning websites and other businesses that focus on delicate soft washing services on your energy-saving technology don't advertise that you don't always need to clean them. The same stands for roof washing, which is why you should only ever get roof washing done once a year.
What you really should be doing is waiting for it to rain to have it naturally wash out any loose dirt or stains and then check and see after the rain how bad the dirt and grime on your solar panels are.
Now, since we are a company that offers pressure washing in Long Beach and quite a lot of the area outside of the coastal towns is full of red dirt and sand, it is an excellent idea to get solar panel cleaning done. Usually, in wet areas, your solar panel cleaning will consist of occasionally wiping off some dirt or clearing off bird detritus, but if your solar panels are placed in the ground rotating on a swivel instead of based on a roof, then that significantly increases the opportunities for your solar panels to be stained.
If this is the case, hiring seasonal or annual solar panel cleaning at soft pressure washing can increase efficiency. Whether or not you find this service useful to you depends on how efficient you want your solar panels. For most people, solar panel efficiency is the most important part of owning solar panels, and therefore maintaining solar panel efficiency through pressure washing or whatever means are available to you is the second most important part of owning green energy.
Check Out Our Work
See Our Cleaning Process
Coming Soon!
Latest Articles
Pressure Washing, From Brick To Shingles

What follows is a list of materials commonly found in buildings and what pressure you need to wash them at in the potential complications during a pressure washing operation. Here at Crocodile Window […]

Three Ways You Can Damage Your Pressure Washer Accidentally

There are three main ways that you can damage your pressure washing machine accidentally. The first two are possible while the pressure washer is activated, and the third is only possible when the pr […]