How To Clean Concrete - Simple DIY Tips
The reason you may be reading this article is you have a dirty driveway, patio, paths around your home or place of business.
If you're not interested in hiring a professional pressure washing service & get the job done right the first time you can do it yourself. Here are some ways that will help you get your concrete looking new again.
You can always go to a hardware store like Home Depot or Lowes & rent a pressure washer.
You need a pressure washer that has a PSI (pounds per square inch) rating of no less than 3000psi.
It will cost you approximately $50 for half a day or up to $100 for a full day.
So you rent one from the hardware store. First (depending on how much dirt & debri is on your driveway or concrete) you should use a leaf blower to remove excess dirt & debris from the surface you would like to pressure wash. Once you have done that it's time to set up the pressure washer that you rented.
Go ahead & attach the pressure washing hose to the pressure washer & the pressure washing gun to the hose.
Next, make sure the pressure washer has enough gas.
Start by hooking up a garden hose to the pressure washer & turning it on all the way. This will ensure the pressure washer has enough water running through its system. Before you start the pressure washer go ahead & squeeze the pressure washing gun trigger. This will allow water to pass through the system.
Then you will ultimately attach a surface cleaner (pictured below) to you pressure washing gun.
You may be able to rent one at the hardware store you got the pressure washer from.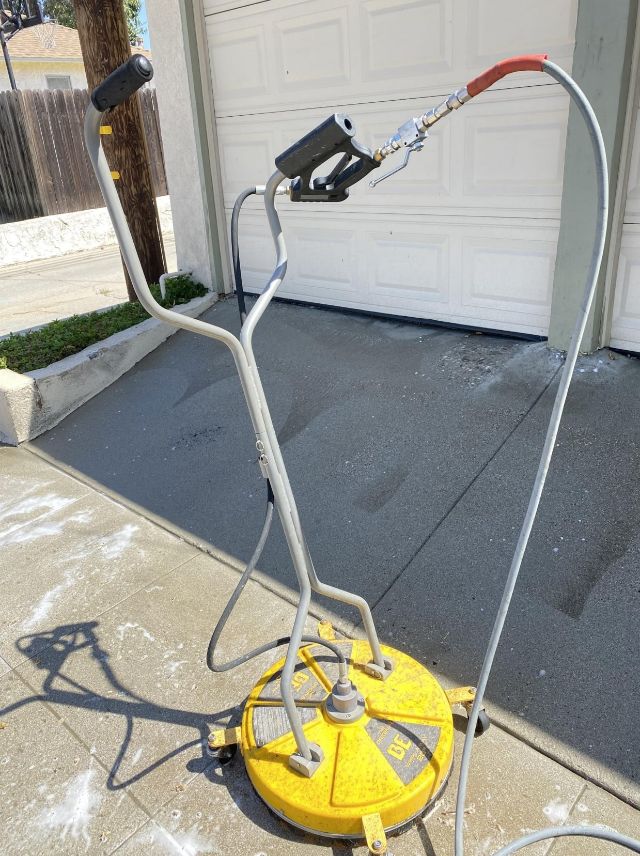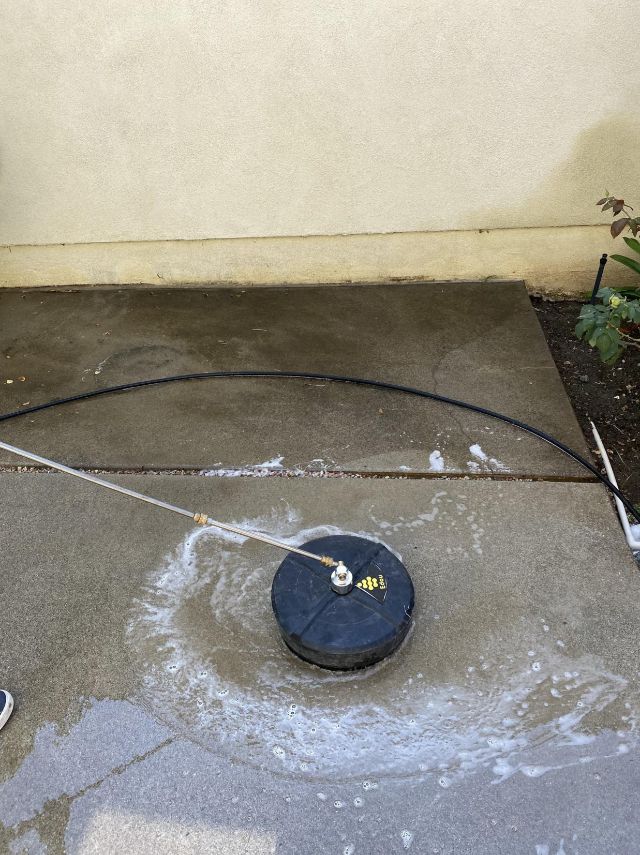 The use of a surface cleaner is to clean in a more uniform manner, not to mention it will speed up the pressure washing process.
Befor you pressure wash your concrete you can spray som degreaser if you have any oil or grease on the surface of your concrete. Ideally you would use a power washer (hot water pressure washer) for these hard to remove stains.
Also to really clean your concrete I recommend spraying a 50/50 mix of chlorine bleach & water mixed with a little detergent. Coat you concrete using a pump up sprayer & let the solution dwell for 30 minutes (make sure to reapply more solution of bleach, water & detergent before it dries). You may see a difference already as the bleach kills & breaks down organic growth, such as mold, mildew or algae.
Once it has dwelled for long enough go ahead & start your pressure washer by pulling the handle attached to the starting cord. If it's cold or even just the first time you're starting the pressure washer you may need to turn on the choke. Make sure the fuel line is in the on position & start the pressure washer. Squeeze the trigger of the pressure washing gun to make sure water is flowing freely. Attach the surface cleaner to the gun & squeeze the trigger as you slowly move forward.
Do not start the surface cleaner without moving it in a smooth forwardly motion as it will etch a circle in your concrete.
Push the surface cleaner up & down the length of your driveway or concrete you are cleaning being careful cot to overlap your previous pass. Continue pushing the surface cleaner up & down until you have successfully cleaned your concrete.
Then with your surface cleaner I want you to move it side to side across the path of concrete you just cleaned. This ensures an even uniform cleaning & you will be able to clean any little spots you may have missed.
If you do not intend on using a surface cleaner then you will have to spray the concrete with the pressure washing gun with a green tip. Moving the gun across the surface staying about 12 inches from the surface. Do not move the gun any closer or further back or else you will have an unevenly clean surface.
Once you have completed the pressure washing process either using a surface cleaner or the pressure washing gun itself make sure to rinse the concrete thoroughly. If not the particles of dirt will sink back into the pours of the concrete.
Make sure you pressure wash with the pressure washing gun & green tip around the edges you may have missed with the surface cleaner. You should have an end product like the picture below.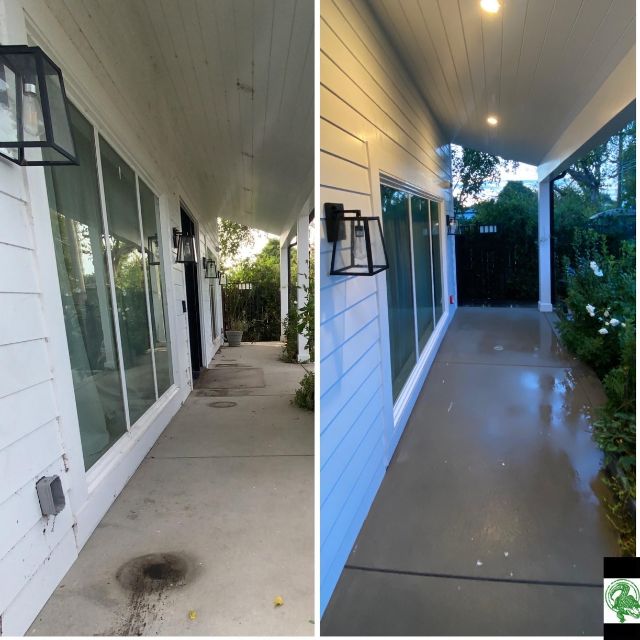 If your concrete has already been cleaned with a pressure washer & you just want to maintain the beautiful clean look you can do the following.
Soft Wash Concrete Cleaning:
Get a pump up sprayer & fill it with equal parts chlorine bleach & water (50/50 mix) & a little detergent.
Spray concrete thoroughly & let solution dwell for 30 minutes. Make sure surface stays adequately wet & don't let solution dry.
Then with your garden his & spray nozzle spray the entirety of the concrete you have had coated with your solution. This will remove any dirt, dust & organic growth from your concrete.
There you go. Your all done with a great looking driveway or concrete backyard. Repeat these steps every 6 months for nicely maintained concrete.
Latest Articles
How To Clean Concrete - Simple DIY Tips

The reason you may be reading this article is you have a dirty driveway, patio, paths around your home or place of business. If you're not interested in hiring a professional pressure washing serv […]

How To Clean Your Windows Like A Pro!

Are you sick of looking out your windows for a better view but all you notice is how filthy your windows really are? Then you've come to the right place. In this article I will teach you some sim […]