Pressure Washing, From Brick To Shingles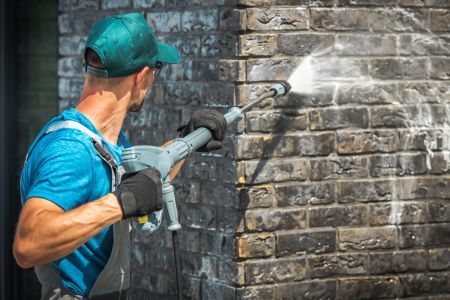 What follows is a list of materials commonly found in buildings and what pressure you need to wash them at in the potential complications during a pressure washing operation. Here at Crocodile Window Cleaning & Pressure Washing, we take our informative blog sections seriously, which is why you can find relative information on all sorts of pressure washing work, such as roof cleaning, house washing and more.
Our Pressure Washing Company Knows How To Clean, And Now You Do Too!
There are many kinds of pressure washing operations to be done over many different kinds of materials. This is not a master list that you should study diligently if you are hoping for master pressure washing, but an informative guide for people who are just getting started or need a refresher.
Brick - Brick should be washed at roughly 1000 to 60 PSI because it is much more fragile than it looks.
Asphalt - Asphalt should be washed at roughly 2000 PSI but never higher than 3,000 PSI because that will destroy the bonding that binds asphalt together.
Concrete - Create must be washed at around 2000 to 3000 psi to ensure that the deep cleaning power of pressure washing truly headed to rates to its depths.
Vinyl - vinyl can be washed in the range of 1500 PSI to 2000 PSI
Wood - wood must always be soft washed, sitting around 60 PSI; the different kinds of wood can handle slightly higher pressures, some going into the mid-1000s of PSI
Stone - End tends to be relatively resistant to pressure washing, but high pressure at close range can chip away at it. Wash it roughly 2,000 PSI
Plaster - You should not try to actively pressure wash plaster dama since the process's high intensity and deep cleaning will break apart and shatter most plaster and other gone.
Glass - Glass and windows are tougher than you might think, needing to be washed around 2000 PSI to make sure you properly remove bird droppings and dirt stains.
Shingles - Roof shingles must be washed delicately; only soft washing or handwashing should be used in this case.
While This List Will Get You Started, Professionals Will Do It Better
Pressure washing should be left to the professionals, with such an intricate and an involved number of materials that must be washed individually or differently from the others. If you are interested in our pressure washing services, you can get a better deal and more leisurely time when you hire the professionals to do the work instead of sweating yourself.
Check Out Our Work
See Our Cleaning Process
Coming Soon!
Latest Articles
Pressure Washing, From Brick To Shingles

What follows is a list of materials commonly found in buildings and what pressure you need to wash them at in the potential complications during a pressure washing operation. Here at Crocodile Window […]

Three Ways You Can Damage Your Pressure Washer Accidentally

There are three main ways that you can damage your pressure washing machine accidentally. The first two are possible while the pressure washer is activated, and the third is only possible when the pr […]