Pressure Washing Tips For DIY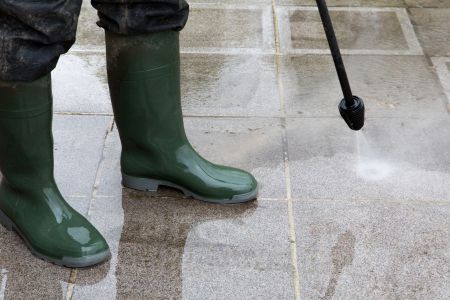 If you are interested in our pressure washing services, then look no further than yourself for the pressure washing know-how to get this stuff done. When you work with crocodile window cleaning, you are working with the best pressure washing operation in town and your best source for pressure washing information and techniques.
Our website is a means for you to find the pressure washing services you need and the starting point for the knowledge that you will need to take pressure washing into your own hands.
You must know many things about pressure washing before you begin, but the essential she'll be outlined in this handy blog article for your benefit.
The Four Most Important Pressure Washing Tips For Beginners
The most important thing you should keep in mind while pressure washing your property is situational awareness. If you need to climb a ladder to the roof washing, make sure no children will be running Under Foot and that your ladder is in a secure and stable position so that no one falls or gets shot in the face with a powerful stream of water.
Secondly, do not hit anyone in the face with a powerful stream of water. They will need to go to the ER because a pressure washing stream can damage the stone. What do you think that will do to a person?! It is essential for the safety of yourself and others that you never point a pressure washing wand at any living person or animal.
Thirdly, always make sure that your pressure washing equipment is maintained and stored carefully. If your pressure washer is gas powered, never turn it on inside because the fumes are dangerous to living humans. Make sure that you take all of the parts of the pressure washer apart in the correct order, or you might cause an explosion.
Fourthly, wear protective equipment. Wear goggles, gloves, and boots to ensure that any loose debris shaking around by your pressure washing stream does not bounce off of the driveway and hit you in the eye.
DIY Is Fine And Good But…
Ultimately, the best pressure washing is offered by the best pressure washing company. DIY projects are wonderful for pressure washing enthusiasts or people interested in washing their own homes, but the best deals you will get on pressure washing are offered by the commercial services that can help you more successfully.
Check Out Our Work
See Our Cleaning Process
Coming Soon!
Latest Articles
Pressure Washing, From Brick To Shingles

What follows is a list of materials commonly found in buildings and what pressure you need to wash them at in the potential complications during a pressure washing operation. Here at Crocodile Window […]

Three Ways You Can Damage Your Pressure Washer Accidentally

There are three main ways that you can damage your pressure washing machine accidentally. The first two are possible while the pressure washer is activated, and the third is only possible when the pr […]